Hello,
I need some wisdom bestowed upon me. I am trying to set up a relationship between a form and a sub form in way that will let me look up and edit sub form records from the main form. I attached a picture that will hopefully make it clear.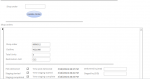 I want a user to be able to search for a form that needs to be updated. I.e., when a user hits the 'update shop order' button I want that form to be looked up and edited.
Attached below is the macro that I am currently trying to use, with no luck. If anyone can give me any advice on how to achieve this I would greatly appreciate it.

Thank you