Local time

Today, 13:28
Joined

Mar 17, 2021
Messages

117
Good afternoon,
I'm trying to pass a value from one form to another. The originating form has the following code:
Code:
Private Sub btnUpdateStatus_Click()
    DoCmd.OpenForm "frmUpdateStatus", , , , , , Me.txtContractNo
End Sub
and when we open frmUpdateStatus a box asking for a parameter value like this: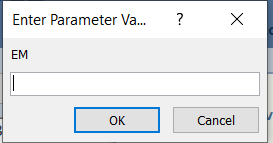 And here's the on current code for frmUpdateStatus
Code:
Private Sub Form_Current()
If Not IsNull(Me.OpenArgs) Then
        Me.RecordSource = "select * from tblContracts Where ContractNo=" & Me.OpenArgs
    End If
End Sub
I don't know what I'm doing wrong. This is the same process I used to pass values between forms in another database and it works. This particular one the originating form is in a navigation form. Would that be affecting it?
Thank you,