I thought this would be a simple one, but as with most of my task on my project, it is causing me a headache.
I have my parent/master form "JobQuote". This form has all of the main information such as JobName and JobID. Within this form is a tab control with 5 tabs that each have sub forms (some of them have several). Everything is bound via JobID in either its underlying query, or via master/child links. All in all, this form is complete and runs wonderfully.
What I am trying to add to it, is the ability to have multiple "versions" of itself through Revisions. Here is the table structure: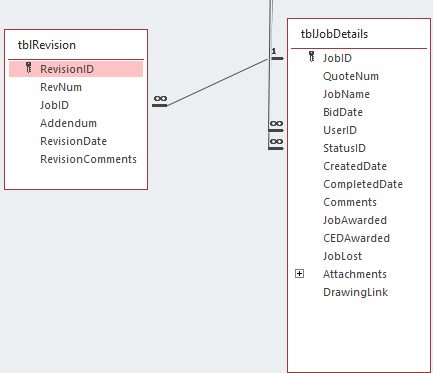 Hopefully I did the above correctly. If so, on my parent form I want to have a text box linked to RevNum so that a number/short text may be entered. That would then populate a combobox also tied to RevNum and "filtered" by JobID. I would then like the form to "rotate" through its contents based on the selection in the Combobox, with empty being "base".
The idea is you start a job and enter all info required. You then later need to revise the job, but you need to retain all the previous info as a history. The info would hopefully stay from revision to revision, allowing simple edits and/or sweeping changes. You can then select which every revision you want to view via the combobox and the entire form would go to how it was under that revision number.
The simplest way of doing this would be to simply add a "-(dash)1" on our Quote Number and "force" a new JobID with all the same info every time we need a revision, but that seems super super sloppy.
I have done something similar on this form already, but haven't been able to get it to work for the entire form. The problem I think lies in the tab control. I did try making the entirety of the form (essentially just the tab control) a sub-form and tried that method, but everything broke, and broke pretty badly. I have not had a good experience dealing with tab controls within subforms.