I think the only thing keeping me sane during lock down is my Little Shop of Horrors. While I wait for more warm weather to spray #1, I have #2 on the go, but I will run out of things to do very soon if I can't shop for materials. I'll just post highlights rather than document a build like I did for Nautical Gent, and will include a few concepts that didn't apply in that build...
This is a back brace sitting on a radius sanding dish (15 ft radius). The braces are placed in the approximate location that they would be if this was a back and they are sanded until they conform to the arc of that location. Each brace takes on a different arch because the dish arc is not the same near the perimeter as it is in the center. When glued on in a companion radius dish (in the go-bar deck) the back takes on the shape of the arcs.
Note the back plate sitting on the glue-up radius dish, showing the gap. Top and bottom touch the dish but the rest of it, not so much.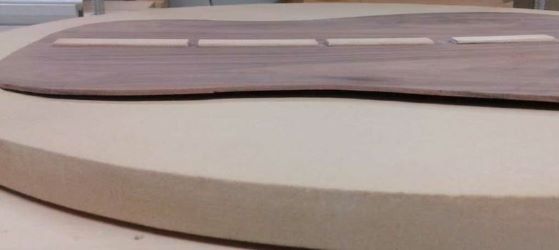 Same story for the top, but a 25 ft radius. Some builders do 40 ft but I don't see the point in that.
.
If you saw the Uke thread, you saw in top and back glue up before. The uke back was not arched (too small).
.
.
One needs lots of clamps to glue up kerfing on 2 sides at once!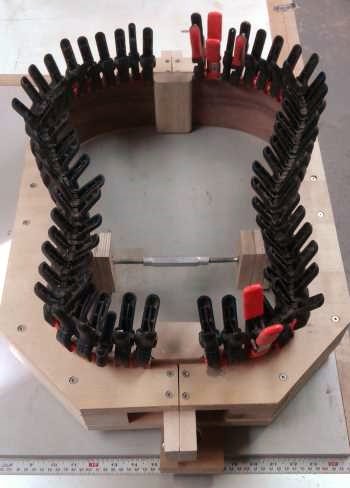 .
Headstock plate & rough carved heel.
.
Last edited: