Hi Access gurus,
I have in my access database a Forecast table that has figures for forceasts for February through December. I have included the sums Feb through May below:
I have a form with a tab for each month
I would like it so that if the February tab is selected then it return the Data from the query with departments, Income Statements Sections and the sums for that particular month so for example if tab is February just return for Feb: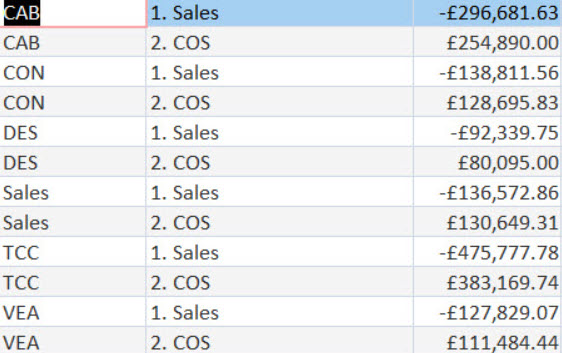 and then I'll likely have a drop down where they can select which Department they would like to look at and if for example e.g. CAB
Then if they click on 2. COS I would want another subform which displays a breakdown of the Cost of Sales lines for CAB (The below is just dummy data- the actual number of lines would be a lot higher:
I want to try and avoid having to have a load of queries and subforms. I currently have quite a lot for another form I created and I am guessing there is a way to optimize this in future as they are largely the same underlying query but with different departments so at present I have 2 queries for each department and 2 matching subforms.
Thanks in advance and if something doesn't make sense or you need further elaboration please let me know and please feel free to dumb it down or point me to a youtube article or website that explains it.
Thanks
Paul