Local time

Today, 18:48
Joined

Sep 14, 2020
Messages

35
Hi,
I am opening a new thread from my initial thread -
319040
@arnelgp
guided me towards using a Class Module which I have learning about and implementing.
However, I have an issue with the name of a form which I don't understand and would appreciate further knowledge on what I'm missing?
The example provided by
@arnelgp
works perfectly. I followed the example implementing it into my home project.
However, I got a
Run-time error '2465': Microdsoft Access can't find 'subfrmClientList' referred to in your expression.
message.
clsBrowser.init_class Me!subfrmClientList.Form, Me!btnFirst, Me!btnPrevious, Me!btnNext, Me!btnLast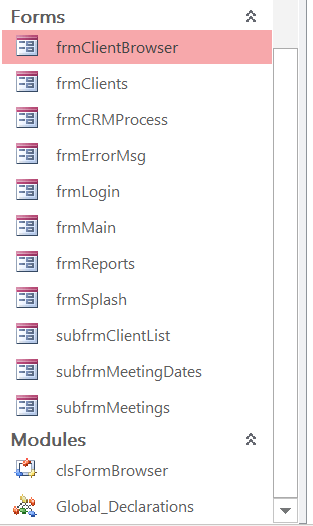 Form_subfrmClientList is the datagrid as a subform to Form_frmClientBrowser
I could not and still can not see where my problem is so I changed the sample to see what I was doing wrong.
Here is the original -
clsNavigate.init_class Me!Customers.Form, Me!btnFirst, Me!btnPrevious, Me!btnNext, Me!btnLast
Take note of the Me!
Customers
.Form
I renamed the Forms and ran the project without changing the word "
Customers
" and the project ran fine.
I then changed the code Me!Customers.Form to Me!subfrmCustomers.Form which makes logical sense to me and now the project as a Run-time error.
I am obviously missing a basic understanding of what's going on and would appreciate any guidance.
Thanking you
Peter