Local time

Yesterday, 22:25
Joined

Mar 8, 2020
Messages

82
Hey All,
I've created a new project for my work, it's essentially a computer assisted dispatch, storing call records for Security Operations. Essentially with each "call" (record) there is a total of 6 fields to assign "staff" to. What I'd like to do is make it so that only staff with the status of "10-8" (available) appear in that list.
No problem, got that in the bag
. Where things get a little over my head is that what I'd like to do is that when you select a "staff member" from the available (10-8 status) list in 1stAssigned field, it will change the EmployeeStatus field to "10-6" (busy).
This is all done on an Access Form, with Querries to populate the list, and record the records into. The records get recorded into qryDetailsExtended, the list of staff is pulled from qryEmployeesExtended, which is where the status of each employee is also stored. The name from the list populated by qryEmployeeExtended is the only thing that gets stored in qryDetailsExtended, under 1stAssigned, 2ndAssigned, etc.
Another field on this form is chkDetailCompleted, which signifies that the call is completed, which I use to filter other datasheets, etc. When this is checked and the record is closed, I'd like the names in 1stAssigned (populated from Employee Name in qryEmployeesExtended) to change EmployeeStatus to 10-8 as well, signifying they are cleared off the call and back available.
I've attached a screenshot with the basics of the form and query I am talking about.
Thanks in advance!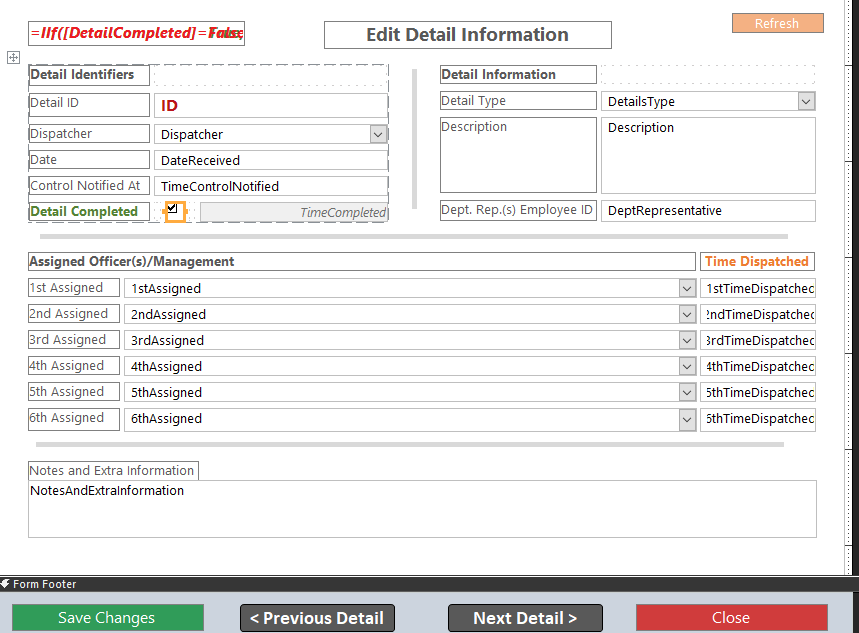 Form Name frmManageDetails
Query name qryEmployeesExtended