Local time

Today, 01:27
Joined

Jul 24, 2020
Messages

174
Hey!
In the form frm_record2 I have a subform that contains the songs on the disc.

Previously, it was possible to add a hyperlink to the recorded song on my hard drive by right clicking in the field.
Something happened when I experimented with using the FileDialog function.
In the end, I decided that hyperlink was a better option.
Since then, I have not been able to add the hyperlink to the dialog box. I've been looking for what could be wrong without finding it.
The fields are in a subform, but I do not think it should matter.
In the form frm_program I have two fields that work great with the hyperlink box.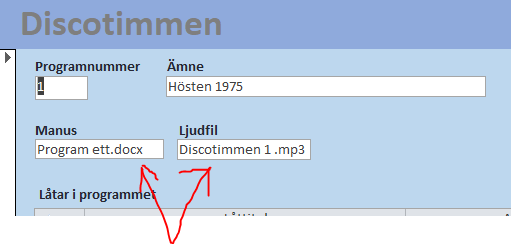 Please help me!
Hope it is OK with you that the forms are in Swedish.
Leif
Last edited: