Hi All
I am migrating my companies business away from running from a spreadsheet to an access database. As part of that I am recreating the reports that they produce as separate sheets from the data they have inputted.
One of the reports has a letter template with details of a delivery as the first tab of the new sheet it creates along with a second tab that shows upcoming deliveries that the client may have in the next few days. Clients require this 2nd page/tab for their stock planning.
I have created the first page easily using a report and it generates a nicely formatted page, the second page of the report is proving a bit tricky as the number of columns of data is more than can be easily displayed on an A4 sheet in landscape mode.
As I am new to all this stuff i'm trying to figure out the best way to display the data on 2 lines per record but not sure how to show header information in this instance.
I was looking at groups but that doesn't really fit as each record is a separate delivery and as such there is nothing that i can see to group the data with anyway, and i still don't quite understand how i can show the header information for the data.
This is what Page 1 looks like when a report is generated: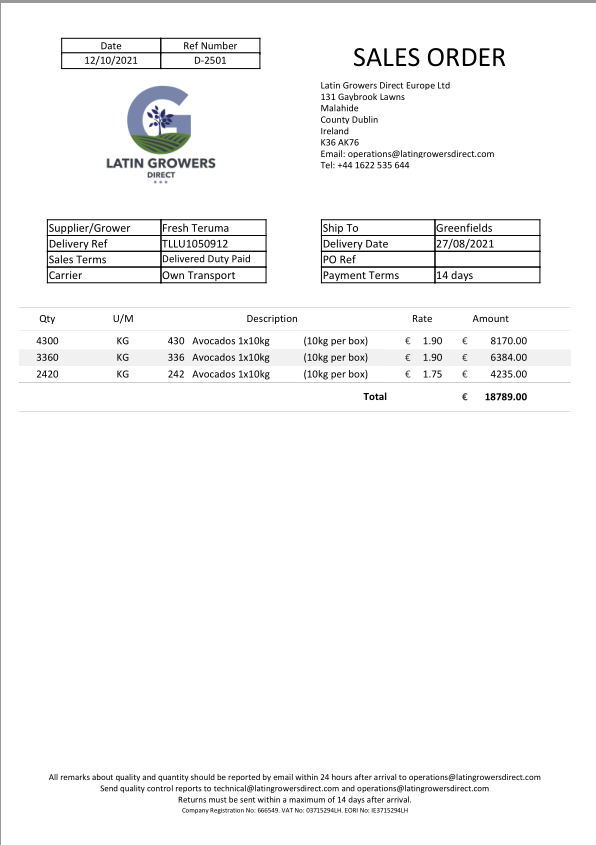 This is an example of what I need to create as Page 2 of the report. So i need to be able to add something to my current report that generates a separate page at the end of the report to show the following in an as close as possible format as it is below

It might be that it would be better to have effectively 2 separate reports generated together or it might be that a report is the worst way to achieve the above and it would be better to export the data directly to excel or a csv or have it written directly to an email or something else so I am happy to direction as to best ways to achieve the above but as it was going to be part of a process of generating the main Sales Order report i thought it would be better to keep things together
Thanks in advance
Glen