Local time

Today, 11:07
Joined

Jan 30, 2020
Messages

586
This is probably something simple, but:
Table Data: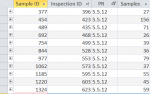 Sum of Samples for PR 5.5.12 = 630
Query Output:
Where is the extra 156 coming from? Here:
Whenever there is more than one subrecord, the number of "Samples" is counted again, in this case, twice. 630+156=786
How should I adjust my query to fix this? I've tried all 3 join types, I've tried it without the Errors field below. The output doesn't sum correctly unless I remove the second table from the window, so it's definitely the relationship.