Local time

Today, 18:15
Joined

Apr 2, 2020
Messages

7
Hi all. I have not used access in many years and just getting back in to it. Have a slight issue that is very frustrating. So I have a report (images to follow shortly) and it looks ok as a report. However, when I convert to pdf to email it the report suddenly gains a whole lotta white space between controls. Not all of them, I have a few lines and then the rest of the page is white space, and it starts again at the top of the next page. Does anyone know why this happens and how to avoid it?
Here is the report as a report within Access...............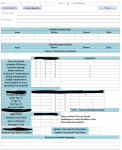 and here is how the converted PDF comes out...........

As you can see, huge amounts of white space. This report could be crunched down to 2 pages but instead is across 6 pages.
Huge thank you in advance for any help
Dan