You've got your good things, and you've got mine.
Local time

Today, 04:11
Joined

May 21, 2018
Messages

4,015
I figured this was worth reposting, because i see so many people struggling with wanting to filter a form. I have seen some painful attempts. I doubt without writing pages and pages of code you can replicate the following to filter a coninuous form. The date filter alone would be 1000s of lines and multiple forms. Here is my form with every field having a complex multiple select option filter.
When choosing a text field the filters available
When selecting a date field the choice are limitless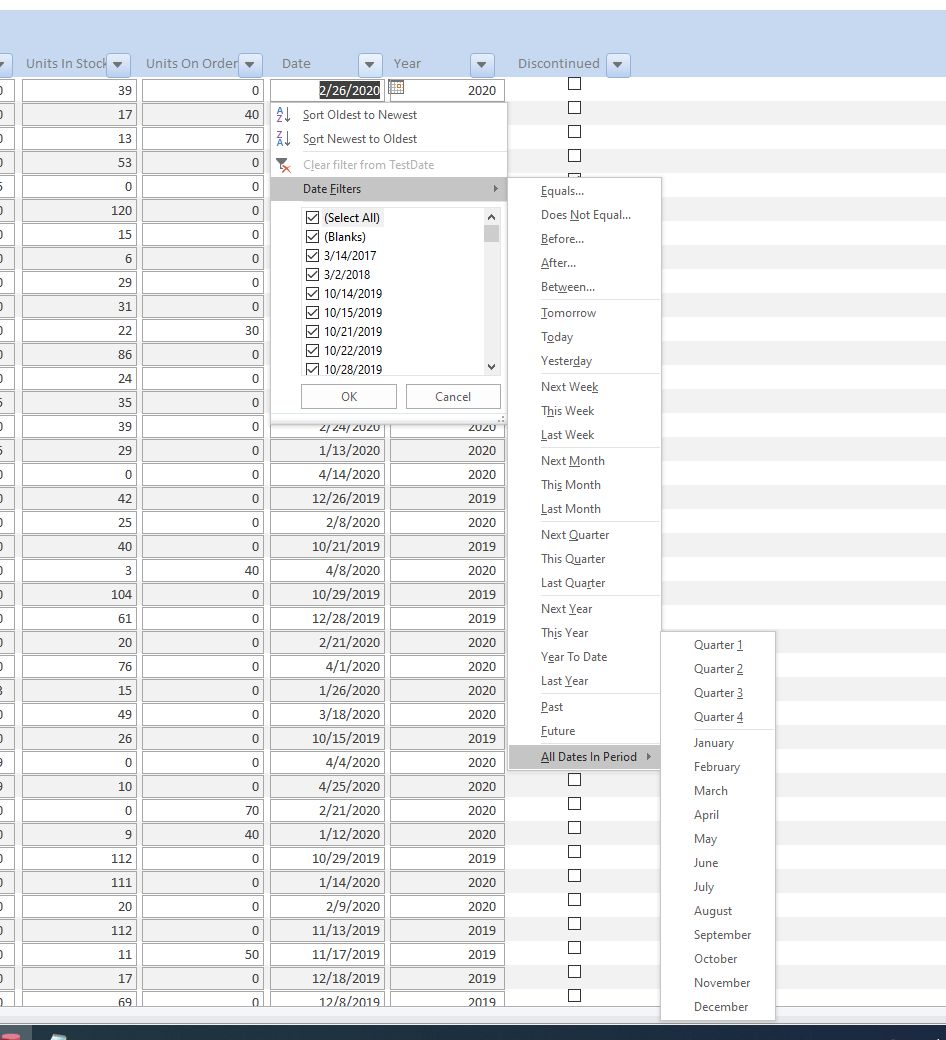 I added a calculated year field
So how much code to build this form with all this functionality. According to Word 40 lines of code, but only 118 words.
Code:
Option Compare Database
Option Explicit
Private SelectedButton As Variant
Public Function FilterForm()
  On Error GoTo errlbl
  Set SelectedButton = ActiveControl
  Me.Controls(ActiveControl.Tag).SetFocus
  Me.Recordset.MoveFirst
  DoCmd.RunCommand acCmdFilterMenu
  Exit Function
errlbl:
  If Err.Number = 3021 Then
    MsgBox "No records Returned", vbInformation
    Me.Filter = ""
    Me.FilterOn = False
    SetButtons
  Else
   MsgBox Err.Number & " " & Err.Description
  End If
End Function

Private Sub Form_ApplyFilter(Cancel As Integer, ApplyType As Integer)
  SetButtons
End Sub

Private Sub Form_Load()
  DoCmd.Maximize
End Sub
Private Sub SetButtons()
  Dim cmd As Access.Control
  For Each cmd In Me.Controls
    If cmd.ControlType = acCommandButton Then
      If cmd.Tag <> "" Then
          If InStr(Me.Filter, cmd.Tag) > 0 Then
            cmd.Picture = "Filter"
          Else
            cmd.Picture = "Down"
          End If
       End If
    End If
  Next cmd
End Sub
Last edited: